China, 2018
Beijing Center for Mindfulness:
January 2-4 – three evenings MB-DMT workshops
January 6 – one day MB-DMT workshop
MB-DMT Basic Program
Beijing, October 11-14, 2018
MB-DMT Basic Program
Shenzhen, October 18-21, 2018
---
China, 2017
December 2017:

December 27-28: Two-day workshop for organizers: Introduction to MB-DMT
August 2017:
Workshops in Zibo and Beijing
Aug. 12-14: workshop in Zibo 3 days — integration of MB-DMT and Interpersonal Mindfulness

Aug. 19-22: 2nd training of BMT in Beijing. Four days — MB-DMT, Body Awareness module of BMT

Aug. 24-27: workshop in Beijing 4 days — MB-DMT

March - April 2017:
Workshops in Beijing
March 25-28: Interpersonal Mindfulness combined with dance/movement practices.

April 1-4: MB-DMT for single mothers — Cultivating compassion and presence. This course was modified and included connecting and expressing emotions.
---
China, July 2016

BMT – Body/Mind Training
Beijing – July 9-12 & Hangzhou – July 15-19

A 10 month new training program for therapist, teachers, healthcare provider, managers for soft skills & DMT integration with their work. To be taught by 6 teachers from Holland and the US. My workshop opened the training program.
The 4 day body awareness module focuses on body awareness, mindfulness and movement embedded in the MB-DMT approach (Mindfulness-Based Dance/Movement Therapy). It aims at enhancing participants' self-awareness and connection with their body/mind and in training them to apply the learned material in their professional work.
MB-DMT for Single Mothers
Beijing, July 22-24
A 3 days MB-DMT workshop for single mothers. Please see the video for promotional description of the workshop.
---
---
China, April 2016
Four Day MB-DMT Workshops in China

Shenzhen – March 31-April 3
Beijing – April 7-10
Taiyuan – April 14-17

---
Beijing, China — August 2015
MB-DMT: Mindfulness-Based Dance/Movement Therapy
4 day workshop, August 13-16
Mindfulness-Based Dance/Movement Therapy is an approach to human psychology, wellness and growth that integrates mindfulness principles and practices with dance/ movement therapeutic approaches to the body and the mind.
At the 4 day workshops participants are presented with theory and practice of MB-DMT. Sessions include explanations, meditation, exercises/movement/dance and sharing that includes discussion on relevance to everyday life.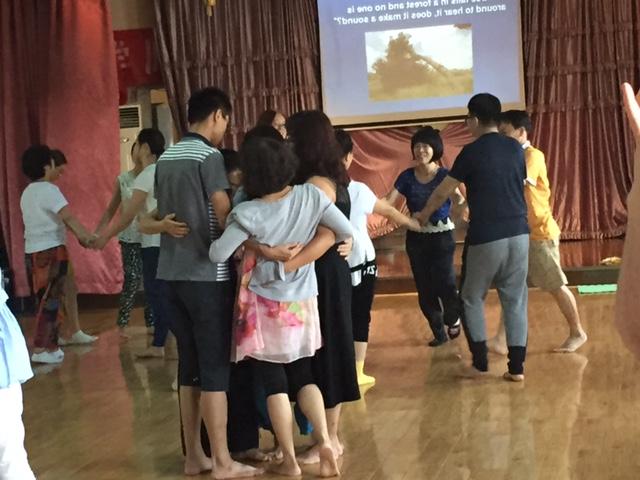 Benefits from participating at the 4 day workshop:
Self-growth and development:
Enhanced self-expression through movement
Increased attentiveness to the body and enriched movement repertoire
Expansion of the range and expression of emotions
Satisfaction of the kinesthetic and aesthetic sense
Effective interactions, communication and leadership:
skills to observe, understand and relate to non-verbal communication
Mastery of six guidelines for mindful speaking and listening
Ability to stay centered and calm in the midst of stressful interactions.
Openness to relate to self and others in a compassionate and accepting way
Skills for wellness of self and the community:
Ability to engage in mindful relationship
Skills to navigate between individual needs and group (family, team, class) demands.
Enhanced ability of finding creative solutions to life challenges.
Improved workplace performance and interaction:
Professionals gain helpful tools and principles to implement in working with clients/co-workers/peers/colleagues and broaden knowledge and experience within professional relations.
Certificate
Upon completion of the workshop participants receive a certificate of participation.
MB-DMT — Cultivating Compassion, Acceptance and presence
4 day workshop, August 20-23
Compassion, acceptance and presence are integral parts of the mindfulness approach and practice. In this workshop we will focus on these aspects while strengthening mindfulness in all other aspects as well.
There is an increasing recognition in recent years of the role and importance that compassion plays in the well-being of people, and subsequently it became an important component in therapy and self-development programs. Self-compassion and compassion for others serve people in their work towards self-acceptance, growth and healing. It supports our emphatic, caring and demanding relationships with family, social circles and at work. Compassion helps us all to open the heart with acceptance and tolerance of our human differences and uniqueness.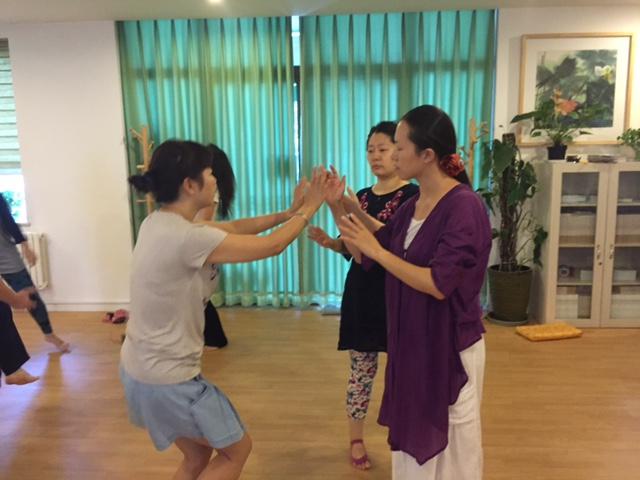 Being present and centered helps us meet life challenges with mindfulness and calm, respond skillfully rather than react automatically, and gain confidence and stability.
Cultivating compassion, acceptance and presence will take place in this workshop through integration and embodiment of a variety of mindfulness practices with individual and interactive dance/movement improvisations. Sessions will include theory, experiential exercises, dance/movement experiences, sharing and discussion about integration of the practices and learned qualities in everyday life. The movement comes from deep listening to the body and from awareness to others and since it derives from such attention it means it is done without music. No previous experience in dance is needed and everyone is welcome to attend regardless of age, gender, ethnicity, physical ability or body shape.
Through participation in this workshop participants gain:
Tools to cultivate compassion for self and others
Deeper sense of self-acceptance (body & mind)
An ability to recognize and honor the 'inner critic' without taking-on its messages
Mindfulness skills for everyday activities
Enhanced centeredness and inner stability.
Developed empathic attunement
Expanded feeling of relatedness and connectedness
Improved relationships with self and others
Enhanced sense of joy and openness
Freedom of movement, creativity and expression.
2015 Third Academic Conference of Chinese Association for Psychological Intervention
Peking University Health Science Center, August 15, 2015
Presented MB-DMT — theory, integration and implementation in therapy, including a short experiential.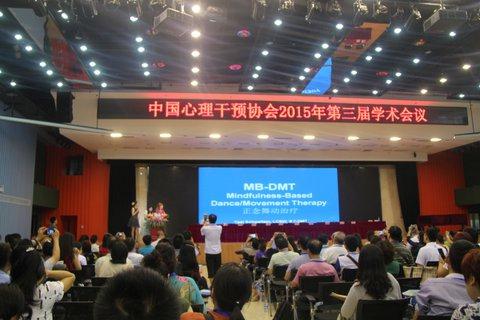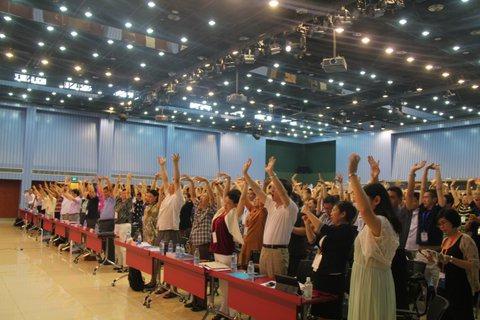 MB-DMT Mindfulness-Based Dance/Movement Therapy
One day post-conference workshop for therapists, August 17, 2015
At the 1 day workshops participants were presented with the basic theory and practice of MB-DMT and got to experience through exercises and experientials explorations in movement how to listen to the body, be present and express their inner movement impulses, and how to relax the body and the mind. The discussion included explanation on the use of the approach in therapy both for the therapist and the clients.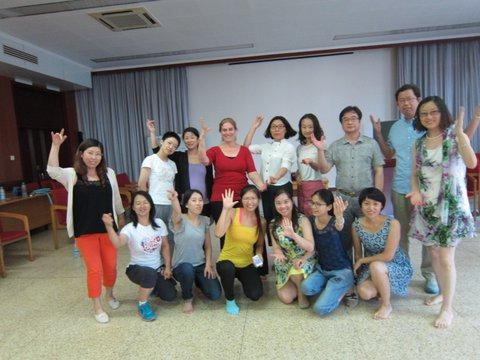 View our current Teaching in China >