Mindfulness-Based Dance/Movement Group

Creative Dance Portland
A mindfulness approach to dance/movement improvisation
"Creative Dance Portland" is an on-going class based on Barbara Mettler's approach to dance improvisation. Participants cultivate awareness of the body and movement expression and with no external music listen deeply to their own movement impulses. The progression in each class includes a tune-up/tune-in, individual exploration of a movement theme that continues to dancing in duos, small groups and ultimately, whole group dance. Participants explore the relationship between self-expression and group demands and find creative solutions to navigate between the two.
Everyone, regardless of age, gender, dance experience, physical ability and body shape is welcome to participate in the dance!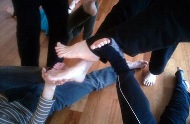 When:
Once a month on Wednesday 10 - 11:30 AM
Where:
Currently on Zoom free of charge
For the monthly date and Zoom invitation please contact me, see contact info below.
You are invited to come and give it a try!
Please contact the instructor Yael Schweitzer at mindfultherapy@yaelschweitzer.com or 971.404.8249.
For more information on Barbara Mettler's approach please go to the International Association for Creative Dance website: www.dancecreative.org or www.barbaramettler.org
Video of Creative Dance Portland
Beginning with the study of creative pause, movement impulse and shape during individual exploration, the group moves into duos and culminates into a whole group dance. Although the video contains background music, the dance is performed in silence. Video was filmed and edited by EngagePhoto in Portland OR, January 23, 2013.